From FinTech startup to $90M in dealflow
JOUST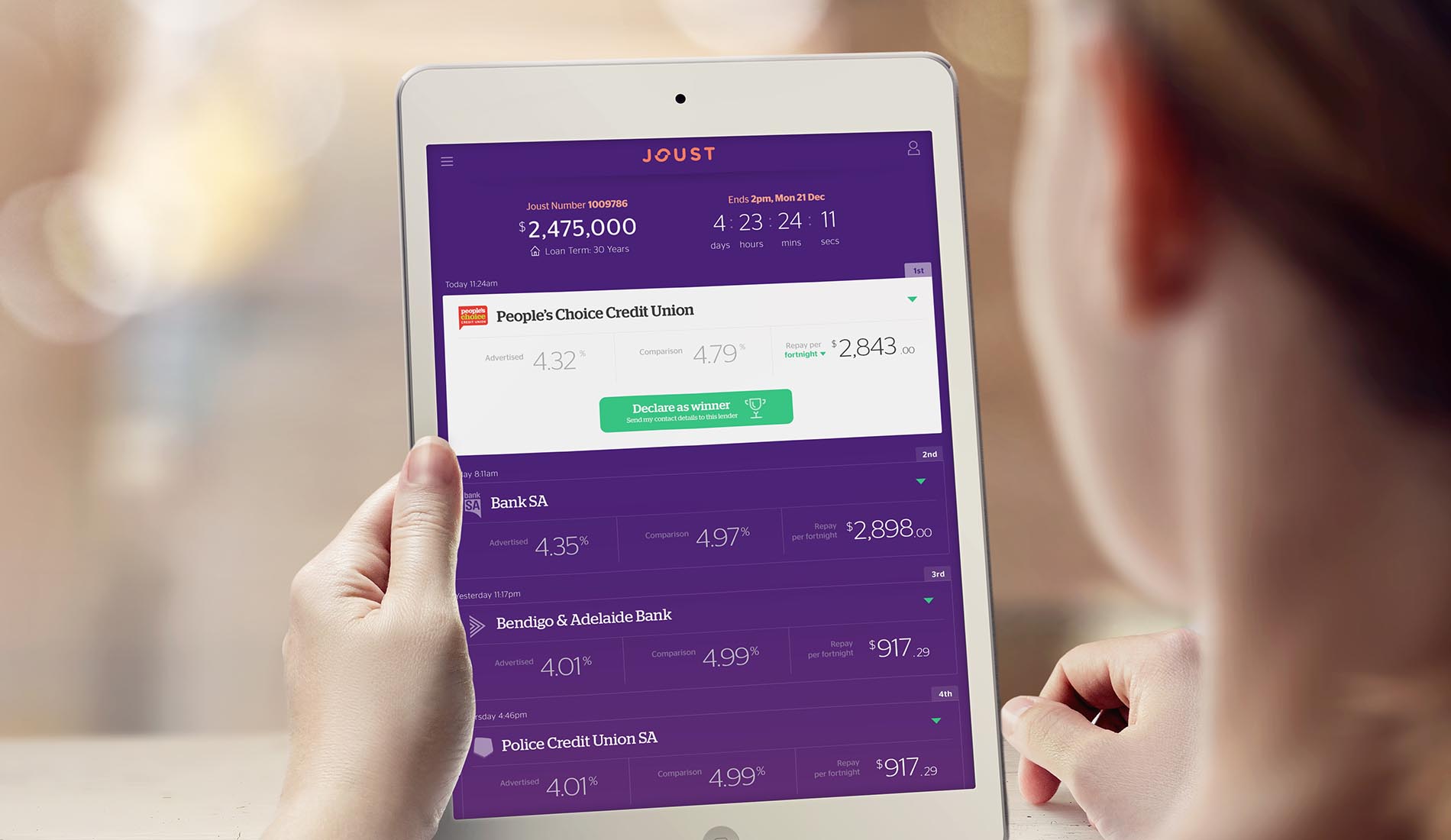 Mark Bevan approached Fusion with an idea. As someone who had been in banking all his life, Mark believed lenders had introduced too much complexity into home loans. He was passionate that home loans could be easier to understand and it should be straightforward for people to secure a better deal.
Fusion worked intensely with Mark and his team to take an idea from a 'back of the menu' sketch to launching an intuitive mobile-first platform that focused on making the complex simple. The platform, aptly branded Joust, empowers people to reverse-auction their home loan by allowing lenders, via an online console, to battle in real-time to win their business. Since the South Australian pilot went live in June over $90M of deals have flowed through the Joust platform.
Our startup has benefited in countless ways from the skill, enterprise and energy of the Fusion team. Without them, we wouldn't have a unique digital strategy based on their team's deep understanding of financial services, a quality user experience or a robust platform that continues to impress consumers and lenders across Australia. Fusion also helped us stand out by creating a unique brand name that we absolutely love.

Mark Bevan JOUST CEO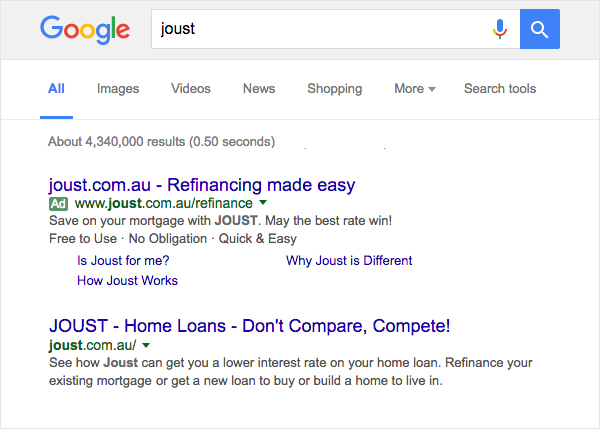 As a new consumer brand, being easily found online is mission critical. We worked on an intense program of SEO work which resulted in the Joust website being the top listing for the keyword 'joust' on Google within 6 weeks. Fusion's team are helping Joust acquire more customers with a highly targeted digital marketing program made up of conversion focused initiatives using Google, Bing, Facebook and Display Ad networks.
A distinctive brand name is the result of a clear strategy. Fusion worked closely with the business founders to develop a clear positioning, serving as the foundation for the in-house creation of the brand name Joust. Our core objectives were to create a name and brand identity that laterally expressed the 'consumer hero' business model while being distinctive, memorable and easy-to-find in the crowded financial services marketplace.
To deliver a frictionless digital experience, Fusion made use of a wide variety of technologies to power the Joust platform. We integrated 3rd party services for address authentication and credit-scoring with code libraries including Vue.js to deliver instantaneous updates to the Joust leaderboard, without the need for browser refresh.
Get banks fighting in your favour, visit Joust.com.au
---